*This was originally posted at Perfectly Flawed Woman on 8/12/2013.
Addy and I took a little girlie trip over to Cocoa Beach so she could attend a  Mary Moon Surf & Art camp for the week. We joined friend Molly and her parents and had a wonderful time. The camp was split into half day surf,  break for lunch, then half day art. They had so much fun, you couldn't pull them out of the water.  The art consisted of Batik, Palm Boot painting and mosaic frames. Addy painted her palm boot into a wonderful shark!  What we hadn't considered is that it was sea turtle season. For whatever reason that never entered my mind, so it ended up being a nice bonus! Along with the launch of a rocket from Kennedy Space Center, we couldn't have planned this better.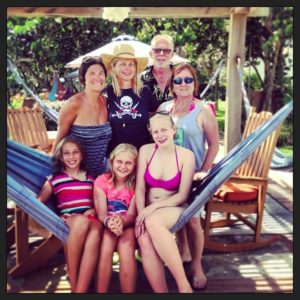 Sea Turtles nesting season is from March through October on the Atlantic coast, and from May through October on the Gulf coast. On our first night we all took walk on the beach and Holey Moley if we didn't witness a mama sea turtle coming out of the ocean to possibly nest. Amazing! We stepped back, hushed up and gave her space as we squinted and tried to watch her crawl up towards the dunes in the dark. When she reached them, we sat and waited a while, giving her time to begin the nesting process. We did approach briefly to see if she was laying eggs but she had dug a hole and appeared to be turning around, so we left to give her peace. The next day we walked over to see what she had done, there were a couple of holes started, but mostly she took a stroll along the dunes, not finding a proper nesting location this time around.
We all became protection police for the Sea Turtles, filling in holes on the beach and letting those with flashlights at night know that this could be a distraction to mama nesters or baby sea turtles trying to find their way to sea.  I couldn't help but feel that it's no surprise only 1 of 1000 (yes those are real statistics) of babies hatched make it to adulthood. They first have to make it past all the human-made setbacks, lights, holes in sand, etc, then the birds, the crabs, the raccoons….  Once they make it to sea, they swim like mad to get out into deeper water (talk about a tough first 24-48 hours of life). Then of course they have to make it to adulthood pending they don't mistake a plastic bag for a jellyfish or get caught in a 6-pack ring….  Nuts!
So knowing all this, it was a truly magical site to see one coming out of the sea like that!
Need to freshen up on how to help the Sea Turtles? Here are a few great resources below, but for now:
Lights out on the coast, no flashlights or flash cameras at night.
Fill in your holes please after building that castle and mote.
Don't bother marked nests, markers, signs or tracks.
Do not approach, touch or get in front of adult or baby sea turtles.
Walk along water's edge, not at dune line.
Links:
NESTS – Neighbors Ensuring Sea Turtle Survival
Sea Turtle Preservation Society
Ocean Conservancy